You want 40,000+ lumens? Here you go! Total illumination. This size is popular for mounting above the windshield on many vehicles.
For Jeep JK and TJ vehicles we recommend the 50 1/4" Motobilt mounts. They are super high quality and made in the USA. Whichever mounts you choose, you want to make sure that they are built for ~50 1/4" light bars, and not the ~52" variants.
Specifications:
96x Nichia 5000K LEDs

Neutral white 5000K
Excellent color rendition; improved depth perception; reduced glare
70+ or 80+ CRI (color rendition index) available; both give excellent color rendition but the 70+ CRI gives you approximately 10% more output

Dimmable - User Programmable Modes

Available with 1, 2, or 3 normal modes.

To select number of modes, simply hold switch for approximately four seconds to enter programming mode.
After the light gives a quick flash, within the 5 second programming time click the switch to indicate the number of modes:

1 Mode = 1 Click
2 Modes = 2 Clicks
3 Modes = 3 Clicks

Hidden "Indicator" or "Moonlight" Mode

To access "indicator" mode, hold switch for approximately two seconds.

Low voltage protection
Integrated temperature protection
~350W total output; ~30A peak amp draw @12V input
Output:

42,350 LED lumens (70+ CRI); 38,500 LED lumens (80+ CRI)

Body width: 50.125"
Body depth: 3.5"
Body height: 3.1"
Mounting hole spacing (center-to-center): 51.75"

Suitable for ~50 1/4" windshield mounts.

Body weight: 10.6 Lbs
Converter box dimensions: 6" Length, 3.5" Width, 2" Height
Operating Temperature Range: -10F - 120F
What's Included:
The MTN LITEbar kit includes all of the parts you need to run the LITEbar, except for custom mounting solutions.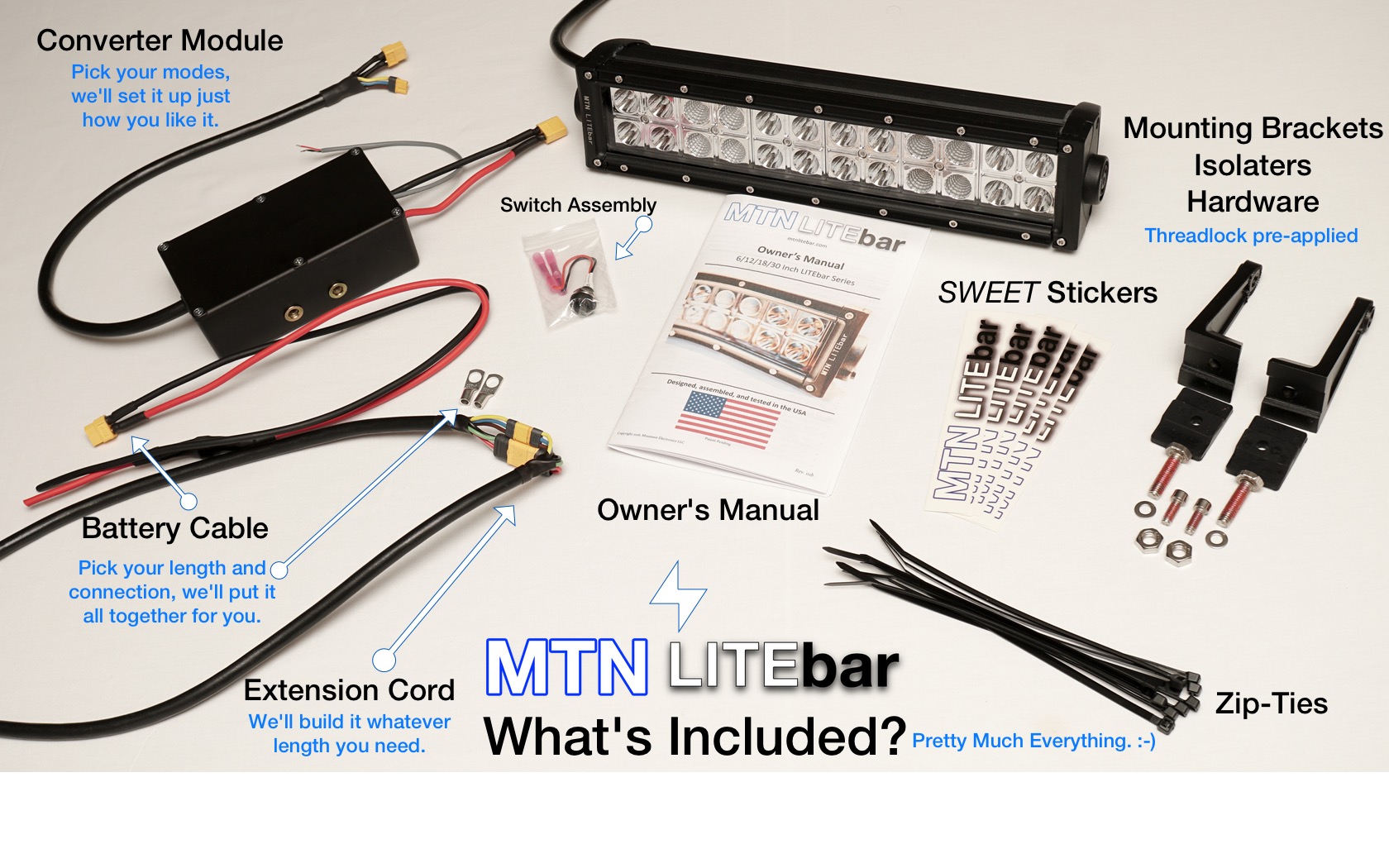 LITEbar Body
LITEbar Converter w/ (4) 5/8" x 1/4-20 Screws
7-Wire Extension Cable, Pre-Terminated (unless not necessary, see below)
Battery Cable w/ Inline Fuse
Waterproof Switch Assembly
Mounting Bolts
Extra Washers
Mounting Brackets
Rubber Insulators
Zip Ties

MTN

LITEbar Stickers
Options: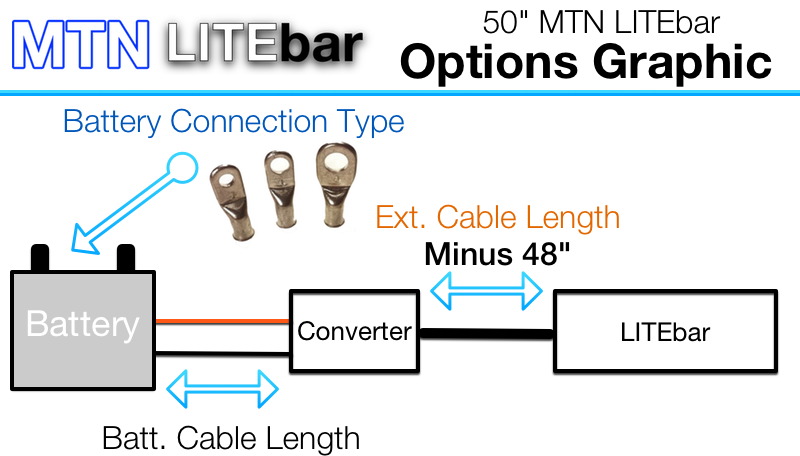 Ext. Cord Length: This is the cord that connects between the converter and LITEbar. There is already 48" worth of cable on the 50" LITEbar & converter; subtract that amount from the cable length you order. If your distance will be 48" or less, then you don't need an extension cord.

The 50" LITEbar has a longer attached cable so that the wiring can be run inside of the windshield mounts that are designed to have the wires run internally without the connectors getting in the way. All other LITEbars have an 18" cable attached to the LITEbar.

Battery Connection Type: We'll help you get connected to your battery with a variety of different connection options.

1/4" Lug
5/16" Lug
3/8" Lug
None: Bare Tinned Wire End

Batt. Cable Length: This is the cable that connects between your battery and the converter.

LED Type: All of the LEDs we use produce excellent light, but you can choose between slightly richer color rendition (80+) or slightly higher output (70+). Both are excellent choices!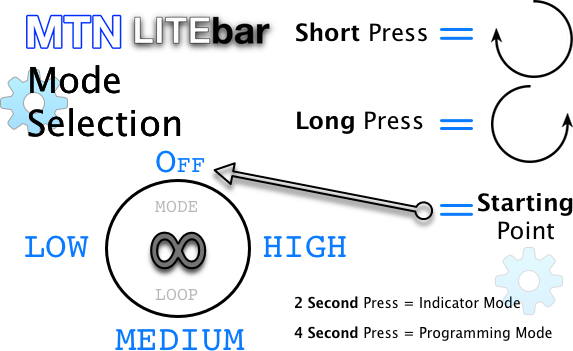 FAQ:
What is involved in installation? What tools do I need? Beyond custom brackets, pretty much everything else you need to install the LITEbar is included. You need some common tools, like wrenches and a drill. Please see the Owner's Manual PDF for more information.
How do I know what length extension cable to order?

To measure the length of extension cord you will need (or if you need an extension cord at all),

Figure out where you will place your converter, then figure out where you will mount it. The Owner's Manual may be helpful in deciding which location would be best.
Figure out the route that your cable will have to take from the converter to the LITEbar.
Using a wire or string, trace the route of the cable.
Measure the length of the wire/string, then subtract 48". The 50" LITEbar + converter assemblies have ~54" of combined cable already installed, so if your run is 48" or less you will not need an extension cable.
Select the appropriate cable length (length of run minus 48").

What if I order the wrong length cables? See the 14-Day Cable Exchange Plan, below.
Limited Warranty:

Each MTN LITEbar 50" Series + Converter is covered by a Limited Warranty. This warranty covers all defects in manufacture and workmanship for a period of 1 year from the date of purchase, during which time the manufacturer will cover all labor, parts, and shipping costs related to the repair or replacement of the LITEbar assembly. After the initial 1 year period has passed, for an additional period of 4 years (5 years after the date of purchase), the manufacturer will cover the cost of parts only, with the costs of shipping and labor not being covered under the Limited Warranty.
The Limited Warranty does not cover any accidental damage caused by excessive heat, vibration, sun damage, collision, road debris, etc. This Limited Warranty does not cover any damage caused by incorrect installation. Additionally, this warranty does not cover paint fading or glass yellowing or other glass damage.
14-Day Cable Exchange Plan
Order an MTN LITEbar system and get the wrong length extension cord or battery cable? No problem! Contact us within 14 days of the receipt of your kit and we will exchange your incorrect cord for one of the correct length (plus a small fee if the replacement is significantly longer). To schedule an exchange, please contact us. If it has been longer than 14 days after receipt, then you will have to purchase a new cord here.
Dimensions
Height
3.1"
Weight
10.6 lbs.
Width
50.125"
50" - MTN LITEbar
Product Code: MTN-LB-50-SC
Availability: 5